PREVENTION TIPS IN THE HOME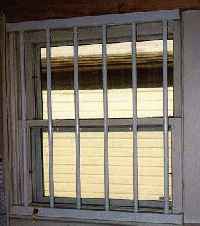 It's a known fact, if someone really wants in your home, their going to get in. However, alarms and burglary bars wil deter crime because it takes extra work to get in and all the noise attracts attention, something a burglar doesn't like. If you already have some of these measures, or you can't afford them, what else can you do?
One of the first things recommended is to write down all of the serial numbers for all of your electronics and firearms. Some items have a model number too so write those down also.
Another suggestion is to take a sharp pointed object and engrave the last four numbers of your social security number into the back of the item. Serial numbers on a paper tab can be pulled off but engraved numbers will stay there.
Make sure all of your windows and doors are locked and not just pushed shut. An open window is an open invitation. A nail at the top of a window helps but don't forget your emergency escape plan in case of a fire.

TIPS FOR AROUND YOUR HOME.
Heavy shrubs and bushes in front of your windows may look nice but they give a burglar a great place to hide! Make sure your outside lights are working properly. Motion sensor lights are not only inexpensive, they also take away what criminals enjoy, the dark!
Shut your garage door when it's not in use. A theif can make a "shopping list" by simply driving through the neighborhood and then coming back later when your not home.
You took care of the electronics on the inside of your home but what about your tools and lawn equipment? Get those serial numbers and engrave your own.